The Coronado Springs Resort, you will feel like in the southwest of the United States or Mexico with Palm trees, Spanish-style buildings, or the pool is overhung by a huge pyramid maya of five floors and where every public place is colorful and picturesque.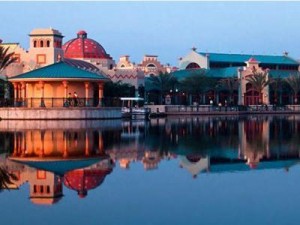 The Coronado Springs hotel have 1921 rooms. Found in each room, 2 double beds or a king bed, a table and 2 chairs, a bathroom and a corner beauty with 2 sinks. The rooms also have a safety deposit box, coffee maker, telephone and modem plug, a dryer, an iron and an ironing board. A mini fridge is available on request ($10 USD/day).
There are three types of rooms: standard room with view on the courtyard, the garden or the parking, the room with view on the lake or a pool and the room with king bed. The Coronado Springs Resort is in the sector of Animal Kingdom. Each room can accommodate 4 people plus a 3 year old child and less.
On the site of the hotel, there are fast food outlets, a restaurant with service of Latin cuisine, a bar-cafe with light snacks of Southwest type and a BBQ by the pool. Coronado Springs has also 1 large swimming pool with slide, 3 more protests swimming pools and a children's pool.
In addition, there are a volley ball ground on the spot, a bicycle hiring center, nautical boats, two amusement arcades and a hiking trail. For adults there is also a tanning and massage salon, a hair salon and 2 ballrooms. Finally, the hotel has a business center and several meeting spaces to accommodate the groups.