Like every year, are already appearing decorations for Halloween in Disneyland Paris, a period that this year called Hello-Ween cover and officially day from October 1 to November 4. Those who will go in this period will find a park decorated with pumpkins, ghosts, and entertainment and evil characters in the first line to interact with guests.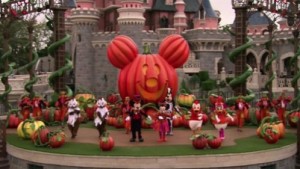 The evening of 31 then there will be a special evening, accessible with a separate ticket that costs 35 euro. Please note that these tickets are sold out rather quickly, so it is good to hurry if you want to schedule a visit for the occasion.
In addition, with the ticket for the evening of Halloween you have access to the park from 17. Simply, the closure of the park (for others) to 19, those who do not have the bracelet of the evening is filtered to the outside, putting in motion a significant organizational machine, and for example only one who has the bracelet can climb to the top of the attractions, or eat in restaurants, or in any case turn freely to the park.
Even in the Studios there will be two special events, call Terrorific Nights. In this case are more for adults, so to be unsuitable for children under 12 years. It will be on 26 and 27 October, and in this case the ticket costs 35 euro.