In the Gulf of Gabes between the Mediterranean and the Sahara, will captivate you with its beautiful beaches and its exquisite architecture, its peoples, a history of legends, compared to the Tunisian coasts, the beauty of this island located in front of the Gulf of Gabes, Djerba, is warm and very discreet with a beautiful amber color, an island of sirens and beautiful legends, a dream.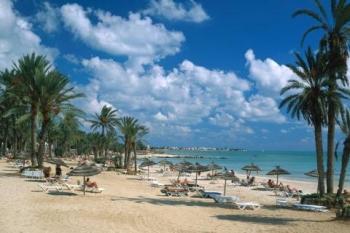 Djerba the sweet, the dreams, of Golden Sands, say that there is an air so sweet that you can not die, it seems everything is slower and the day seems to last longer, the charm of this island are the palms, imperturbable heaven and whitewashed houses, exquisite and gentle breeze and yellow rocky landscape.
Serene landscapes and enchanted places, a trip unforgettable and ideally tourism.
The island has an international airport hotel and is connected via the Roman road from El Kantara, you can also arrive to the island via the ferry.
Where to stay
The hotels are located just 10 km from the Houmt Souk town, Hotel Vinci, 33 euros a night, Hotel Sangho Village, 37 euros and 4-star Hotel Mouradi 77 euros per person per night.