The Das Stue, from Embassy of the Denmark Kingdom to hotels, the real past only retains the classic and severe facade, opened in 2012, has rapidly established itself as one of the best hotels in Berlin.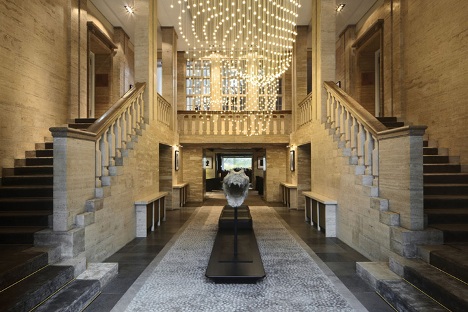 Some might argue that little has changed: high standards and great attention to detail. The neo-classical design of the original building has been restored, and well complemented by a more modern extension to the rear of the building, in short, appearances have been saved. But the architects have had to indulge in that, where they have created very functional spaces, modern, and never banal.
Detail not to be overlooked, the "5 – cinco by Paco Perez", as they called the onsite restaurant that offers flavors of Spanish and Mediterranean cuisine, is the first project outside of Spain the star of the kitchen, Paco Perez. Of course, not for all budgets.
Between 80 rooms and suites, 24, connected to the world via Wi-Fi, offers a reading room, spa and gym, and does not move if we are accompanied by small dogs. Near the Zoo, 15 minutes walk from Brandenburg Gate.
Bordering the great green oasis of the Tiergarten, Das Stue, it is proposed as a haven of class, in the midst of the hectic life of the metropolis.