There are so many strange building around the world, many different in their being eccentric. Take for example, Osaka, as you can think of making a building with the hole in the middle, or London, where they even built a skyscraper shaped cucumber (to be polite).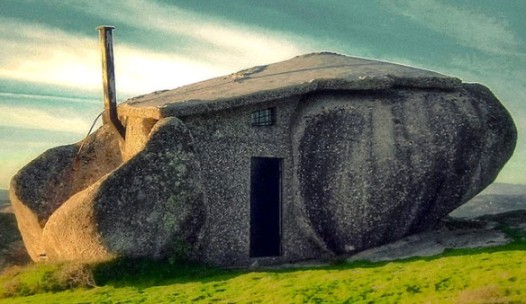 The Casa do Penedo in Portugal is definitely strange, but in its simple rusticity, perfectly integrated in the natural environment where it was built in 1974, has since it's the romantic beauty of simplicity.
Casa do Penedo is located near Fafe, just over 15,000 inhabitants in the north of Portugal, and (of course) owes its name, House of Stone, the four large rocks among which was built in two years, starting from 1972.
Except for doors, windows and roof, the house was built entirely with local stone, so integrating (but maybe you should say, blending), with the surrounding landscape.
The interior has been decorated with the same style, or rustic spirit, with the furniture, stairs and railings made of logs. The sofa is made of concrete and eucalyptus wood and weighs 350 kg, making this house a veritable tourist attraction, for those who are moving in this region of Portugal.
The house has no electrical system, but for those who live there should not be the problem, when the proximity to the huge winds turbines, which in terms of noise, do not fear.