If you are visiting Casablanca, there will pass unnoticed. And 'The Hassan II Mosque', considered the largest mosque in Morocco and to size the third mosque in the world after The Masjid al-Haram in Mecca and The Masjid an-Nabawi in Medina.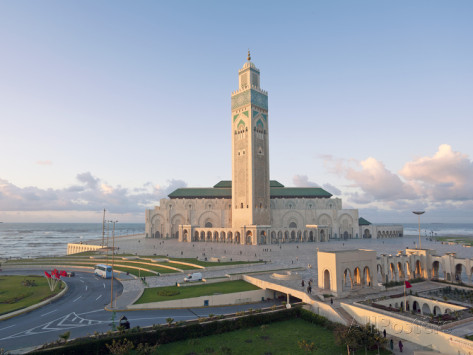 Designed by French architect Michel Pinseau and built by Bouygues, the mosque stands on a promontory and two-thirds of the ocean, at the end of the Maghreb, and it is considered the most interesting example of architecture of contemporary Moroccan world.
In the construction of this building worked over 6000 craftsmen and Moroccan workers, who came from every part of the country. A colossal work, from the square of 90 thousand square meters, can accommodate about 80 thousand faithful. Inside, a huge Hall, about 20 thousand square meters to accommodate 25 thousand people, more than the tallest minaret in the world, 210 meters.
Modernity and tradition come together in this facility, with speakers in every corner of the room, a heated floor to give warmth to the faithful and of a sliding roof panel composed of 1,100 tons of cedar wood in warm periods, during large religious gatherings, allows natural ventilation and continuous air exchange.
Built in five years on the behest of King Hassan II and inaugurated on 30th August 1993 has cost an exorbitant amount. Much of the spending has been financed by the Moroccan people through a national subscription. The reason for a structure so solemn is due to the fact that the King, in the eighties, he decided to want to Morocco a building that was the same way as symbols of other countries, such as The Statue of Liberty in the Staes, The Colosseum in Rome or The Eiffel Tower in Paris. The mosque became the representative symbol of North Africa.
Access to this mosque is open for tourists and women, it is advisable, however, a headdress (for women). Also in this area you can visit the hammam, Moroccan public bath, although it is no longer functional.