When we travel abroad to visit friends or family, we usually take the opportunity to bring them some of those foods that they miss. Likewise, before returning from our destination, we always like to buy a typical product to give away or consume in our country. Ham, cheese, spirits, preserves … Have you ever wondered before if you can take food on the plane? In this article we review the rules that affect the transport of food in our luggage.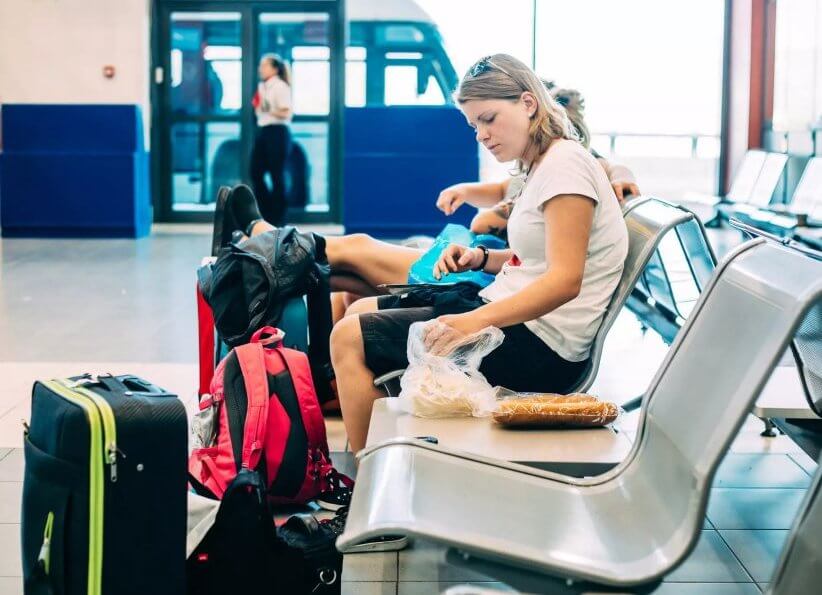 Solve your doubts about whether you can bring food on the plane or not
When it comes to knowing if food can be carried in hand or checked luggage, we will have to take into account, above all, the regulations of the countries of origin and destination.
Bringing food in the plane on flights within the European Union
If our trip is from one European Union country to another, there are usually no restrictions when taking food on the plane. We can travel with products of animal origin, as member states are supposed to comply with community veterinary standards.
Yes, we will have to take into account the airline's hand luggage restrictions in terms of size and weight and those relating to the transport of liquids on the plane at European Union airports. For the purposes of these measures, water or other beverages, soups, sauces, creams and oils are considered liquids.
Remember that these liquids on the plane must be kept in individual containers with a maximum capacity of 100 ml. and placed in a single transparent plastic bag or toiletry bag with an opening/closing system whose capacity does not exceed 1 liter.
Foods (special diets, children's food, etc.) or liquid medicines to be used during the trip may be brought onto the plane as long as we justify its use, for example, with a prescription or medical report. These products must be presented separately at the security controls. However, you can carry food in your hand luggage, as well as any drink that has been purchased in the airport stores located after passing security checks. These foods will go in approved and sealed security bags, and with the corresponding purchase receipt.
Focusing on alcoholic beverages, if they exceed the following amounts, we will have to declare them at customs and pay some fees to prevent the authorities from confiscating them:
If the alcohol content exceeds 22%: 1 liter.
Drinks with an alcohol content of less than 22%: 2 liters.
Wine: 4 liters.
Beer: 16 liters.
And if we travel to the EU from third countries, can we bring food on the plane?
Let's imagine that we have traveled to Russia and we want to return to EU with a bottle of vodka, some cakes and a pot of caviar. Can I bring this food on the plane? To answer this question, we must consult the EC Regulation 206/2009 of the European Commission, which applies "strict veterinary procedures and controls" for products of animal origin that go in the luggage of passengers from non-EU countries.
The standard is based on the protection of the people health and animals themselves against infectious diseases from products of animal origin, which may contain pathogens.
In general, this regulation affects meat and dairy products and their derivatives (cheeses, sausages …). It also limits the transport of food containing meat or milk (stuffed pasta, empanadas …) and fish or shellfish. Apart from exceptions, the Regulation establishes weight limits. What does it mean to break the regulation? In addition to losing them, failure to declare these products can lead to a penalty or criminal procedure.
Exceptionally, the Regulation does not apply to these foods if they are for private consumption, their quantity does not exceed 10 kilos and they come from Andorra, Croatia, Greenland, Iceland, Faroe Islands, Liechtenstein, Norway, San Marino and Switzerland.
Other foods that can be carried or sent on the plane are:
Powdered milk or other infant foods and special foods for humans or pets that are medically necessary. These items have not had to be refrigerated previously; they will be commercial brand and will be perfectly packaged. The maximum quantity allowed for these products is 2 kg.
Eviscerated, fresh or processed fish (up to 20kg or in one piece) and some shellfish such as prawns, lobsters, mussels and oysters. The quantity of sturgeon caviar, as it comes from a protected species, limited to 125 grams per person.
Honey, up to 2 kg.
Concentrated beef broth.
Olives stuffed with fish.
Broths and seasonings packed for soups.
Any other food without meat or milk and containing less than 50% processed eggs or fish products.
In addition to the aforementioned Regulation, the only measures that may affect us when taking food on the plane will be those established by the airline for carry-on and checked baggage and the restrictions to the liquids transport.
Can I bring food on the plane to destinations outside the European Union?
If you are going to travel to or from a non-EU country, it is best to consult the laws of the destination country regarding the entry of food. Some nations maintain strict rules for the exit of certain products, to avoid illegal trade or because they come from protected species. Others prohibit the entry of food to avoid the spread of diseases or religious beliefs.
Check the airport website and the destination embassy website to check if food can be carried in hand or checked luggage and the restrictions on weight, processing, presentation, etc. Some product that we consume frequently in our country may have certain characteristics that make it difficult to enter another country. Let's see some restrictions on the entry and exit of food in the most requested destinations.
The United States maintains the same liquid transportation policy as the European Union. In general, processed products can be introduced into the country, even so, they must be declared: coffee, infusions, honey, chocolate, sweets, bakery products, non-creamy cheeses, spices, vinegar, oil or canned fish.

It is not allowed to travel with meat, derivatives or products that contain it. Neither with preparations for soups. Be careful with rice, which cannot come from countries where the Khapra beetle is known to exist. Vegetables and fruits are allowed depending on the place of origin of both the product and the traveler. With respect to alcohol, those over 21 years of age who are not residents of the United States, can bring a liter of drink. To import more of this quantity bears the taxes payment.

Muslim countries prohibit the entry of any product made with pork, such as ham.
If we travel to Cuba, we will not be able to get lobster in any quantity and form of presentation.
From Russia it is forbidden to take more than 250 gm caviar or 2 bottles of vodka.
Now you have enough information to travel with food from one country to another. If you need more information or want to tell us about your experience, do not hesitate to comment!