There is in China a theme park "fake", that is made here and there when cloning elements from other parks, as is shown by this report made by The Theme Park Guy, a guy who runs a hobby all the amusement parks in the world.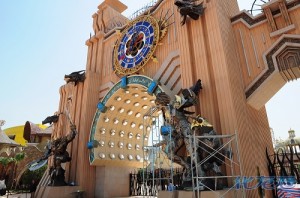 The Park has especially items from Islands of Adventure, Universal Orlando theme parks, but there is also something to Epcot and also a fake Disney Store. It should be noted, however, that the attractions are original pieces, in the sense that they were made by companies and recognized, and appear to have fun too.
The park is located a couple of hours from Shanghai, but in this city, Disney will open its sixth overall, presumably in 2016. Who knows at this point what will be their point of view on such Minnie is seen wandering around the park in one of the photos.