We speak of a benchmark and, for many, a compelling reason to visit Bangkok. Just think about this: 50,000 pieces of toy history between Terminator figures and accessories, Pixar films, characters from Marvel, DC or GI Joe…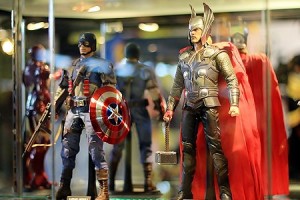 Again feel like a child…
Go back to your youth with this epic collection of toys, or maybe not so much to youth… It all started for Somchay Nitimongkolchai, 39, as a hobby which has compiled an extensive collection of toys, figures, masks, costumes, collector items … even models of some important characters from movies, comics, television…
And as the name suggests, here we will find a wide collection of Batman's and Catwoman's, though the variety is wide and covers a wide range.
The largest collection of figurines from Thailand
This museum is, today the main collection of this type of figurines. To Somchay it transformed in almost obsession, a fixation that lasts already 8 years.
First focused on acquiring figurines, and once that was all, was devoted to collecting vintage accessories and other toys, some of which date back to 1960. As it corroborates, 70% was purchased on eBay, the other 20% from other collectors of Thailand, while the rest came from the hand of Japanese collectors.
When he saw that his hobby was going of the hands, decided to set up a museum. It took him a few months ago, but today is one of the best in Bangkok. The facility opened last July and has been a success since its opening.
Batcat Toy Museum: info
Address: 7032 Srinakarin Road, Huamark
Hours: Monday to Friday, 10:00 to 19:00, Saturday and Sunday from 9:00 to 20:00
Entrance: adults, 250 baht, Child, 150 baht.