If it comes to Japan, the first word that comes to mind is: contrast. A country of contradictions, however, is able to live harmoniously. And this is a major feature of Japan and the Japanese that both attract tourists.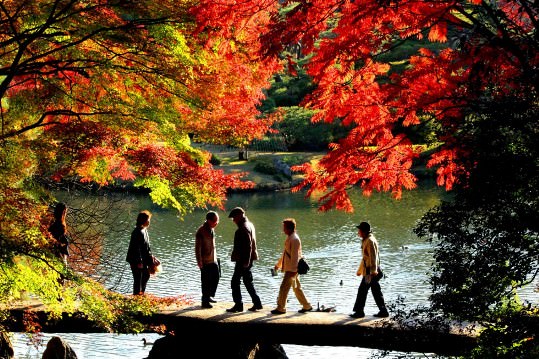 If we talk about contrasts, the city is definitely the one that gives the most eyes: towering skyscrapers, buildings, neon lights and then, a few kilometers away, zen gardens, lakes and immense park.
And it is in the parks that the Japanese people like to spend their time, especially during the change of season. Passage for them must be contemplated and revered in total admiration of Nature. It happens in the spring, with the hanami, the cherry blossom; it recurs in the autumn, with the tradition of Momijigari. This is nothing but the autumn version of hanami.
During Momijigari, in fact, the Japanese people gather in parks and woods to contemplate the leaves turn red, orange and yellow and fall to the ground. A salute to the fall season comes and the landscape changes completely and wonderfully.
Momijigari means "hunting of red leaves" or "hunting maple leaf", an ancient tradition that you will find throughout Japan. On the island of Hokkaido, however, is not called Momijigari but Kanpukai, meaning "go together to see the leaves".