Niagara Falls is one of the most beautiful sights in North America, especially if you stay on the Canadian side of the wonder. It's one of those sites that offer so many different types of activities; it's suitable for solo travel, traveling with friends, a romantic getaway or a family vacation. You'll make wonderful memories no matter the time of year you visit, although the time of year will make a difference when it comes to what to pack.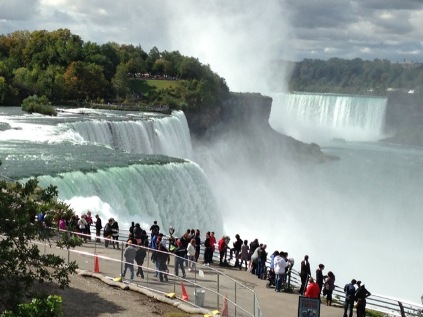 Layers of Clothing
Stay at the Sheraton On The Falls, and you'll be comfortably cool indoors in the summer and warm during the winter months. However, since a lot of the Niagara Falls activities are outdoors, you'll need to be dressed appropriately. Even if it's really hot outside, for example, once you get wet from the spray of the falls, you'll be cold, so you'll need a sweatshirt on hand. It's better to have water-resistant clothing, but it's easy to buy ponchos and umbrellas in the area; some activities even provide ponchos.
Sunscreen and Sunglasses
Even when it's not hot outside – even when it's overcast – the sun can cause UV damage to your skin and eyes. Apply plenty of sunscreen and reapply every hour. If you get soaked from the falls, depending on what activity you do, apply it even more often. Sunglasses are important to protect your eyes and they make it so you don't have to squint while taking in the natural visual splendor of the Falls.
Waterproof Protection
You're going to want to take lots of pictures of the falls, but you may get sprayed with small droplets even when standing far back from the site. Protect your camera or phone with a waterproof film or case so you can freely use your gadgets even with all the moisture in the air. You'll easily find a poncho onsite, but you might consider some kind of protection for anything else you want to bring with you, such as your purse. (Or use a bag or purse that you don't mind getting wet).
If you forget or don't pack something you wind up needing, it's easy enough to buy whatever you need around Niagara Falls. You can even talk to your hotel concierge for assistance. They're happy to assist you, and may even recommend alternate activities, such as on-site spa services and dining if it's rainy or snowy outside and you don't want to sight see.