Also this year to wait for the arrival of the New Year Rome proposes the free concert of the Roman Forum. Protagonists of the event will close 2012 and open in 2013 in the capital will Pino Daniele, Mario Biondi and J-Ax.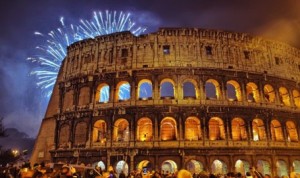 The event will start at 22:00 on 31 December and will continue throughout the night. A few minutes before midnight, the show will be temporarily interrupted to allow the countdown to toast the New Year together at the stroke of midnight, and watch the fireworks. After the concert, the festivities continue with the music of DJ.
For those who prefer to spend New Year's Eve indoors, Rome offers many opportunities: from dinners to theatrical performances, from disco parties with a tradition-bound.
For the more active, however, in the day of 31, starting at 11, this year will be repeated "We Run Rome", the race organized by Fidal Lazio and Nike, with the support of Roma Capitale to animate the streets of the city.
After the success of last year, with over 4 thousand participants, the New Year's Eve event will feature two tracks, of 3 and 10 km, which will start and finish in the area of Terme di Caracalla after passing through the locations of the historic center.