Japan is the country where I have noticed the most culture shock in my life. Everything is completely different, like the customs, traditions or way of being of the Japanese. The trip itself is a mix of the most peculiar experiences. Therefore, I have recapitulated in this post the best experiences you have to do in Japan. Do you want to know what are the rarest? We start!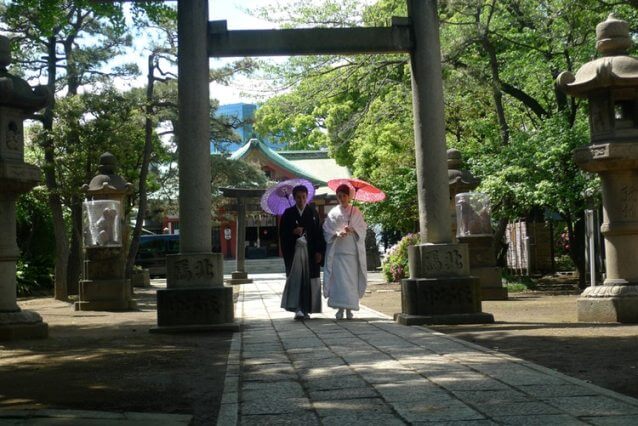 The 10 best experiences to do in Japan (atypical, different and that will surprise you)…..
1. Sleeping in a ryokan
One of the best experiences that I recommend doing in Japan is sleeping in a ryokan. Now surely you are wondering what the nose is that of a ryokan, right? Do not worry; I'll explain it to you.
A ryokan is the most traditional accommodation in Japan. It is a classic room, quite diaphanous, with a tatami, a table surrounded by cushions or chairs on the floor, a closet where the futon is stored (what will be your mattress that night) and little else.
The most special thing about the ryokan is that you have to sleep on a futon on the floor. In addition, all the ryokanes where we stay offer us the typical yutaka (Japanese robe) to walk around the facilities. There are even some ryokanes that also have onsen, the Japanese thermal baths that I will talk about below.
I warn you that sleeping in this type of traditional accommodation is a very expensive experience. The prices are around 200 euros a night quietly, but it is a very special and authentic night. I recommend that you at least book one night of your trip to Japan to sleep in a ryokan. Especially if you go as a couple!
2. Clean your bum with the trickle of smart Japanese baths
One of the curiosities about Japan that will get you the most attention as soon as you set foot in the country is its bathrooms. The squirts of the toilet are the most:
Some bathrooms open the lid of the toilet as soon as you detect that someone enters.
Everyone has a warm bath so you do not get cold while you go to relieve yourself.
The best part comes when you have to select what kind of trickle you want to clean your bum. Or, if you're a girl, to clean up a little bit later.
As you can imagine, in these ultra-technological bathrooms it is not necessary to pull the cistern. It does it by itself.
If you want, some have a musical thread so that nobody hears "Pluf, Pluf" while you poop.
The most curious thing is that the Japanese brand of these smart bathrooms is called "Toto".
3. Dressing as a geisha for a day
It is likely that in the neighborhood of Gion Corner of Kyoto see some geisha on the street, but you can also become a geisha for a day. Yes, as you read. You have several options, from renting a kimono and going out on a tour all day through downtown Kyoto with him. Or get dressed as a geisha or maiko and let a professional photographer immortalize the moment. There is also the male option of dressing as a samurai.
4. To bathe in ground ball in an onsen
The onsen are the Japanese thermal baths that you go to relax. A kind of outdoor spas with medicinal waters, but unlike Westerners, the onsen do not have trickles or bubbles. I recommend you try it because it is the most relaxing experience you have to do in Japan.
So far everything seems more or less normal, right? The only point is that in the onsens you have to put yourself as your mother brought you into the world.
Another important thing is that, unless you rent a private onsen for yourself, women and men are separated. Oh! And if you have a tattoo on your body, I'm sorry to tell you that you can forget about this experience. The Japanese associate the tattoos with the Japanese mafia, the yakuza, and the entrance to the onsen is not usually allowed to tattooed people.
The best area in Japan to try this experience is in Hakone.
5. Sleep in a hotel capsule
As long as you are not claustrophobic, sleeping in hotel capsule is another of the experiences that I recommend doing in Japan. A priori, it seems small this niche-capsule, but I was surprised because it is much larger than I imagined.
Normally, capsule hotels are for women or men. You will find a great offer of capsule hotels in any big city of Japan. The experience is fine for a day or two, but more days in a hotel of this type can be overwhelming.
6. Go to a karaoke
The Japanese love karaoke. Normally they are quite shy and keep a lot of distance, but in the karaokes they go crazy. If you can go to a karaoke with local people, do not hesitate for a second. Unlike the karaokes to which we are accustomed, in Japan the karaokes are complete buildings where you reserve the room or room for hours. If you like to sing, it's a fun plan.
7. Go to a maid cafe or a cat cafe (neko cafe)
One of the weirdest things you can only do in Japan is to go to a maid cafe. It's a cafeteria where the waitresses are dressed as servants and are extremely helpful. The truth is that the roll is a little weird. After entering they put a diadem to you with ears. Every time you ask for something to drink, the waitresses bring you to the table singing and gesturing with your hands and inviting you to imitate them.
By the way, the price of food and drink in a maid cafe is quite expensive compared to the price of any other normal bar. Also, they charge to enter and also to take a picture with the waitresses.
In Japan there are also cafeterias of all kinds, for example cat cafes. The plan is simply to take something surrounded by a bunch of cats that you can caress freely. As you can see, there are things in Japan that are exceptional.
8. Enjoy Japanese cuisine
Japanese cuisine is one of my favorite cuisines in the world. Having the opportunity to enjoy it in your own country is one of the best experiences you can do in Japan.
I recommend you try fresh sushi at a restaurant near the Tokyo fish market. And try to taste the authentic Kobe meat. Do not miss the typical dishes that you have to eat in Japan.
9. See a sumo match or a workout
If you feel like watching a match of the national sport of Japan, I recommend you check if there are tournaments on the dates of your trip to Japan. You can have a look on this web page.
When we were in Japan, in April, there was no tournament, but we did see sumo training in Tokyo. The training's are in the neighborhood of Ryogoku at the very first hour of the morning.
10. More rare plans to do in Japan
I'll briefly tell you other geek plans to do in Japan:
Play a pachinko. A kind of pinball. You will find a lot of places of this type in the big cities. I notice, almost, almost, you have to enter with hearing protectors. They have music at full volume!
Go see a kabuki theater show. It's the traditional Japanese theater. We went to the Kabukiza Theater in Tokyo. There are many performances throughout the day and you can buy the ticket directly at the theater a few hours in advance.
Although we did not go to any, in Japan is where the "Love Hotels" were born, the hotels of love. They are hotels that are reserved exclusively for hours. You can already imagine why, right?
Take out geek photos in the photo sticker booths, the purikura. These photo booths put filters of little faces of kittens, little ears, little hearts. Anyway, now you understand why the Japan so peculiar, right?
Do you recommend any other experience to do in Japan that is different? If you have any questions to organize the trip to Japan remember that you can leave a comment at the end of the post and I will answer as soon as I have a little hole.