Now that the scandal of Panama Papers all knows that Panama is a tax haven, let's see what else we can do once we are in Panama City, as well as to plan a trip along the Panama Canal.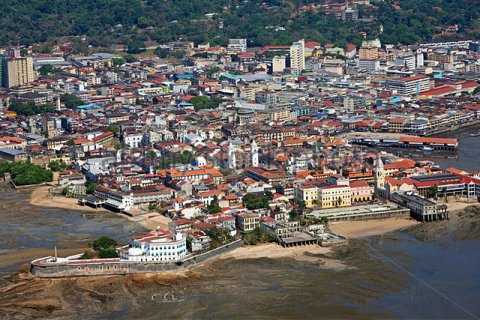 As it is obvious to suppose, next to the modern and gleaming skyscrapers of Panama, probably financed with the money of tax evaders from around the world, there is the old Panama, the old town, which in these parts, called Casco Viejo, or also known as Casco Antiguo or simply San Felipe.
The old town, now on the edge of Panama City, was founded in 1519, and at that time it could boast of being the first European settlement founded by Europeans on the coast of the Pacific Ocean (in Panama City the sun sets over the sea). Burned down several times, sacked by pirates, Casco Viejo has almost disappeared into thin air in the course of its history, so much so that now, UNESCO has felt the need to insert it into a World Heritage Site.
A poor neighborhood, sometimes just run down, it is raising again and restoring thanks to tourists, who are increasingly venturing among its streets and alleys, looking for corners and characteristic shops, or even just to take a panoramic photograph at the downtown skyscrapers, across the sea.
The Cathedral, the church of San Francesco, the National Theatre and the Museum of the Panama Canal its main attractions. To visit in Panama.