While the summer is already coming to an end and autumn is upon us, for some lovers of winter, time to prepare a winter getaway in Montreal. Montreal is ideal for winter sports, enjoy snowy landscapes and even sleep in a hotel built entirely of ice!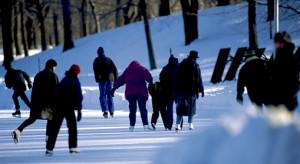 Whether you're a fan of skiing, hockey, skating, sledding or snowshoeing, you will find more a picturesque place where you can enjoy your favorite winter sport in Montreal. No matter where you plan to stay during your visit to Montreal, you will certainly find a place to practice your favorite sport in the vicinity.
Believe among other Mont-Royal, the paradise for nature lovers. 20 km of track skiing and 10 km of snowshoe trails are constructed on Mount Royal, allowing you to enjoy the beauty of snow-covered trees. Here you can also practice skate, walk or do the sledding or tubing. It is even possible to rent snowshoes, skates or skis.
Parc Jean-Drapeau, which is partly on the island of St. Helena and partly on Ile Notre-Dame is another very famous park in Montreal. It is possible to reach easily by subway from the city center. You can go snowshoeing, cross country skiing and snow tubing. A peculiarity of Parc Jean-Drapeau is that you can go and skate on the old Olympic pool.
To skate in a magical setting, go to the Quays Skating Rink of the old Port of Montreal, between the St. Lawrence River and Old Montreal. In the evening, the historic buildings are highlighted by different lighting. After skating a while, you can simply go for a walk in Old Montreal, which is particularly beautiful in the snow.
Hockey fans should not neglect to go watch a game of the famous Montreal Canadiens to the Molson Centre.
For an experience quite splendid and unforgettable, come and visit the Snow Village. This village features each year one of the world's major capitals, and includes many reproductions of buildings and monuments completely designed in ice and snow. The Snow Village includes the famous ice hotel, in which it is possible to spend one night, and also a bar, event space and an ice chapel where some couples get married every winter.
When you want to relax and warm up, you can take a moment to visit the Montreal underground. It is the largest underground complex in the world, which includes a network of tunnels which link up between them shopping centers, theaters, museums, hotels and restaurants. Therefore you can shop and entertain while avoiding too cold temperatures and snowstorms.