The Petronas Towers are the twin towers of apartments that are in Kuala Lumpur, Malaysia. They were built between 1992 and 1997 and were considered the highest towers in the world until 2004.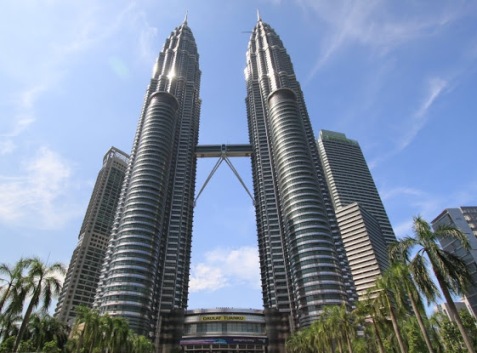 Petronas Towers is 452 feet consist of 88 floors, 32,000 windows and 78 elevators, and is currently the 5th tallest building in the world. One tower is the headquarters of one Petroliam Nasional Berhad and the number 2 is occupied by members of oil company, multinational corporations and restaurants.
The emblem of Kuala Lumpur
The Petronas Towers are definitely the emblem of the Malaysian capital, Kuala Lumpur, is one of the most touristic places. These towers are joined by a footbridge at the height of floors 41 and 42 and with an Observatory in the 86-floor. To go to visit is advisable to go early (opens at 8:00 am).
When it's time to climb the towers, you take an elevator that takes you on a very fast up the floors 41 or 86 depending on where you want to go, arriving in any form to a place where the views of the city will be really impressive.
The best hotels
One of the closest hotels to the Petronas Twin Towers is the Ascott Kuala Lumpur Hotel five star hotel where you can stay from 130 euros. This hotel has 221 apartments elegantly decorated and equipped with everything you need to make your stay comfortable. It is located 75 meters from the towers.
Another hotel located 250 meters from Petronas Twin Towers is the Oriental Mandarin Hotel (Club Dlx City View) is also a five star. Located in the city center, has 3 restaurants, outdoor pool and all the amenities of a hotel of this category. The double room accommodation is from 115 euros.
Arrival by plane
The main international airport in Malaysia is located in the Sepang district to 50 kilometers Kuala Lumpur where the Petronas Towers. To get to the city you can take the KLIA Express train or bus leaving the central terminal and main respectively.