The pretzel is a salty delicious pastry that is shaped like a big knot. It is made from brioche dough which is then covered with coarse salt before being browned in the oven. However, if you want a real taste pretzel, it will be in Alsace, southern Germany, Austria or Switzerland that you need to go.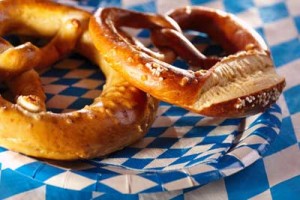 Indeed, if you spend a stay in Alsace in Strasbourg for example, you only have to sit at the table one of the many traditional small breweries that you can enjoy a delicious pretzel. You will eat this one the day of its manufacture, to keep all the softness of the dough, because indeed, if you wait a little longer, the dough will begin to harden… And yes, the pretzel is a pastry that is eaten at the outlet of the furnace.
But by booking a holiday in Austria, you will find many small bakeries who will offer you delicious pretzels which can be enjoyed by walking.
However, there are different ways to enjoy pretzels! If you want to do like true lovers, it will be enjoyed with a good beer. In southern Germany for example, many pubs will allow you to sit with friends to enjoy the duo pretzel – beer, a real treat, allowing the beer to drink after taking a mouthful of salty pretzel.
One thing is certain, once you have tasted a pretzel, you'll want it again!