Indonesia, the will of a thousand islands, always surprises with its paradise. The Gili Islands, beautiful among the most beautiful islands in the world.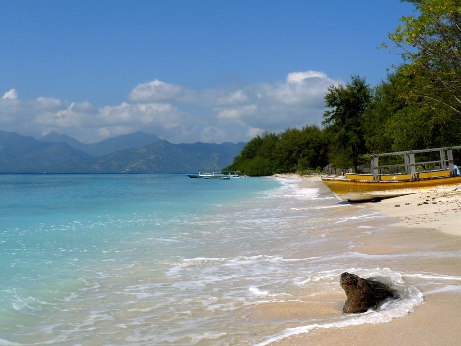 Walking on the pristine beaches of the Gili Islands, Indonesia, one might be forgiven by having confused these islands with the one where it was shot on film Cast Away. Certainly, this small archipelago, consisting of just three islands, has a lot more to offer than an old volleyball ball.
Called the "Maldives of the East", in fact have more character and although their waters are a bit cooler than those of Maldivian sisters. Here you can go for a cocktail served Trawangan, dangling at Paradise Sunset Bar, and dine on fresh fish from Scallywags. For accommodation, there is the cheap bungalow of Ana Warung and bungalows offers the most qualitative of Les Villas Ottalia. Obviously after swimming with flippers and snorkel with turtles among spectacular coral reefs.
The three islands called Gili Trawangan, Gili Meno and Gili Air, and are located just off the northwest coast of Lombok Island, which in turn is part of the archipelago of the Lesser Sunda Islands, just east of the larger island of Bali. All in Indonesia.
The islands are a popular destination for tourists looking for an experience unique to a remote island. Each island has several small villages, usually consist of a collection of huts for tourists, a small pool and a restaurant. Automobiles and motorized traffic is prohibited on the Islands, where you go on foot, by bike or on a kind of coach called cidomo.
On the Gili islands we arrive only by boat, with 30 minutes of navigation, if we start from Bangsal bay on the Lombok island, with 4-5 hours of sailing, if we start from Padang Bai on the Bali island.
You may also interested:
It was referred to as the Pearl of Africa because of it diverse biomes and wonders. Check out our Uganda Safaris page to learn more about the possible trips and safaris.