Shelly Beach in Manly, a northern suburb of Sydney, a beautiful beach, maybe not the most beautiful, but certainly the most "different" since it boasts of being the only beach of the east coast of Australia, aimed at the West.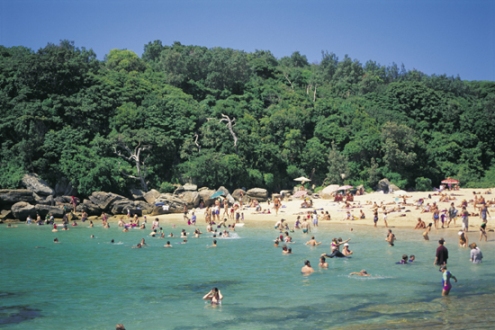 Shelly Beach is protected from the ocean waves by the reef which is located on the right side of the beach and faces west. On the most westerly point of the beach surfers congregate around a point known as "Bower", where crashing the surfable waves "lowest" of the Sidney area (but in the area there are two other good spots for surfing).
The beach is located within the protected marine reserve of Cabbage Tree bay and, for this reason; it is appreciated not only by surfers, even among divers. Many diving schools choose it for the first lessons for their students, because these waters are considered safe and easy to deal with.
Not only safe and easy, but also low (on average between 2 and 6 meters up to 12 meters high),waters that also offer good visibility and an abundance of marine life, which is very popular among divers and snorkellers.
Beach town, so it has bathrooms, including 2 free spaces for electric barbecue, showers, toilets, a kiosk that sells in addition to sandwiches, meals, drinks and ice cream, and even a beach restaurant.