Maruata is still out of this world, even if things do not remain so for long, and perhaps in this case, one might say, unfortunately. The first paved road came in 1980, electricity in 1996, and the first link, the first restaurant and the first brick houses, rented to tourists more enterprising for 300 pesos by the inhabitants, mostly belonging to the indigenous community of the Nahua, what remains of the ancient Aztecs.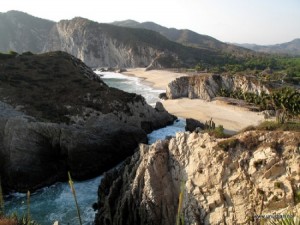 We are on the coast of Michoacan, in the central part of Mexico, one that overlooks the Atlantic Ocean, yet out of the most frequented tourist routes, and this (or because of this), still largely untouched. Manuata, a small fishing village, is located about 800 kilometers west of Mexico City, 500 kilometers north of Acapulco, and 100 miles south of Manzanillo.
Here walk on the beach, and run into a sea turtle, which has just finished depositing the eggs, is still a regular occurrence, capable to excite the minds of travelers more sensitive to the charm of pristine places. Uncontaminated, making it one of the 17 wildlife sanctuaries of Mexico, pristine that it can not yet offer accommodation, if not a few huts (cabanas), in the vicinity of the military field, responsible for the protection of turtles.
As always happens in these cases, to lead the way we thought the backpackers, but now become more frequent visits to campers, who come here, based on the little information available by word of mouth. During the day, beaches and nature we are looking for privacy, in the evening it is better to seek the company of other travelers, in tents or camper, to avoid being pick-pocketed.