In the center of Madrid, on the Paseo del Prado, is the CaixaForum Vertical Garden, which first settled in Spain.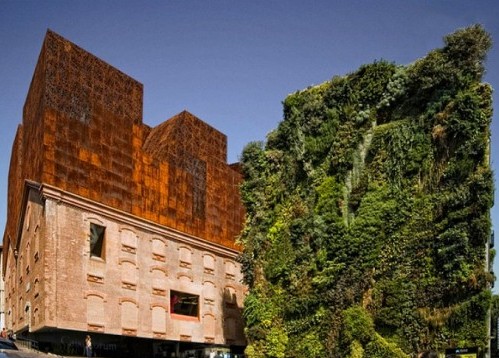 This impressive tapestry plant was designed by Patrick Blanc -French botanist and inventor of the technique that has been created vertical gardens throughout the world. More than 15,000 plants cover the facade transforming the wall in a "painting" of greenish shades with a life of its own. Different species of native and exotic plants covering 460 square meters sit on a wet blanket; substrate without ground, laying water slides from the top to the floor and retains the mineral salts act as fertilizers.
The metal structure, which supports the wet blanket and the weight of the plants, is slightly separated from the building to create a chamber of air that allows the roots to develop.
A green lung in the center of the capital that, in addition, offers an artistic and natural attraction to any pedestrian that walks along the center of Madrid.