Nine islands along the east coast of the peninsula, crystal clear sea, white sand, sun-baked rock formations, tropical palms, worthy set for Hollywood movies, fish, lots of colorful fish, coral reef inhabitants, become park to allow the turtles to hatch their eggs in peace (or almost ..), a true paradise for lovers of sea and snorkelling.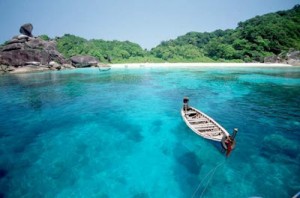 We are in Malaysia, Redang Archipelago islands, which for some years are contesting the best-known Thai Islands. Redang, 7 to 6 km are its measures, is the largest of all, and the unique archipelago, where you can stay in a resort.
Redang is the best known of the islands of the archipelago, and the one that has the image as "patina", and the beach of Pasir Panjang, is its flagship, fine white sand, and fish and corals, which you can see a few meters from the shore. People come here to the sea, and then to the sea, and yet the sea. Nothing to do but relax on the beach, and make lots of baths among the corals and schools of fish (there are also two or three centers to make scuba diving).
In Redang the monsoons arrive between November and February (so as to avoid), for the rest of the classic tropical climate – hot and humid, with temperatures around 30 degrees. The island is served by a small airport, served by flights from the capital Kuala Lumpur and Singapore, even if, to save money, many tourists choose the airport of Kuala Terengganu, where we start with the fast ferry to Redang (about one and half hour journey).