The Blue Mountains are one of the most spectacular natural landscapes in the world, where we can practice adventure sports and enjoy beautiful sunsets.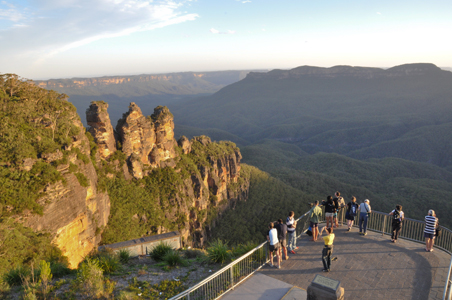 Located in the region of New South Wales to 100 kilometers from Sydney are the grand and imposing Blue Mountains Australia, declared a World Heritage Site. Prehistoric caves, great viewpoints and steep cliffs are part of this treasure of nature.
When visiting the Blue Mountains
This set of parks known as Blue Mountains is one of the tourist resources attract more visitors per year. They owe their name to a curious substance emitted by the many eucalyptus forests that populate the area. In combination with the atmosphere produce blue hazes that give that peculiar Blue Mountains.
The best time of year to visit this natural area is in spring and early fall, as temperatures are very nice, the atmosphere is cleaner, and the landscape is currency that is clear and crisp. So we can enjoy the many activities that take place in this area such as climbing or hiking.
Essential stops and activities
One of the essential stops is a visit to the small town Leura, a wonderful place of trees and gardens with plenty of souvenir shops and restaurants. From here we take the steepest cable car in Australia, Sceniscender, which will take us through the depths of the Blue Mountains.
Another recommended visit is the Jenolan Caves. These prehistoric caves disturbing a wonderful treasure hidden limestone, underground rivers and labyrinthine passages that seem to delve into the depths of the Earth. Not to forget that they are the oldest caves in the world and enjoy worldwide recognition.
The most characteristic image of this natural reserve is certainly that form "The Three Sisters". It is a strange rock formation with three similar columns which stood on the edge of a cliff. The views from here are spectacular and enjoy the sunset from this place is a unique experience.