Belize is one of the countries with the highest rate of biodiversity in the world: more than 90% of the territory is covered by pristine forests and boasts the largest barrier reef in the northern hemisphere. And in addition, most interesting and fascinating Maya palaces are surrounded by picturesque scenery.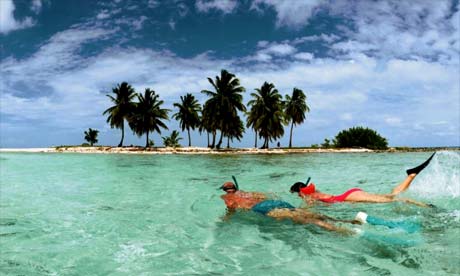 Among the attractions of the only english speaking country in Central America (it was a British colony), Placencia, a peninsula at the southern end of the country; palm trees that shade the white sand and Caribbean sea. An hour and half boat ride from Placencia, the splendor of Glovers Reef, a World Heritage Site, which many consider one of the most beautiful dives of the western Caribbean.
It dives continue to Silk Caye, near the reef, where you can immerse yourself in whale sharks, turtles and manta rays, Pompion Caye, where you descend along a wall full of crabs, lobsters and sea turtles, and South Water Caye and Grand Channel, among a myriad of tropical fish, nurse sharks and turtles, as well as sponges, corals, shrimp, angel fish and parrot.
The nature of the hinterland offers the Monkey River, the river that flows into the fluorescent forest in Belize, rich in mangroves and fish, but also iguanas, crocodiles and birds and natural habitat of the howler monkey. And then the Blue Hole National Park, home to many animal species, including the jaguar, ocelot, wild feline, 200 varieties of birds and where is the famous Inland Blue Hole, a natural pool of fresh water that hides many underwater caves.
And by nature we pass archeology, with the Maya sites of Xunantunich and Caracol, one of the largest Maya cities with thousands of structures including dominates, with its 42m high, Caana, the palace of the sky, and Actun Tunichil Muknal Caves, underground system that stretches for 5 km along an underground river, where stalagmites and stalactites were discovered several ceremonial objects.