In southern Portugal, bordering the Atlantic Ocean and bathed in sunshine worthy of the most beautiful parts of the south is the Alentejo. If you fancy an exotic stay while enjoying the mild climate, Alentejo is for you!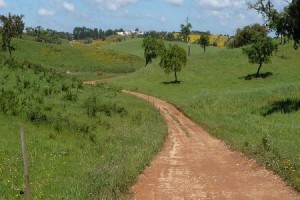 Here, successive long stretches of sandy coastline composed of Portuguese wild beaches, far from mass tourism and its disadvantages. Your holidays in Alentejo are lulled by the rhythm of the sun, nature, including its fields of sight where you will see time at other houses and castles, remains of a rich historical past.
You will then take the time to visit these villages where traditions still persist. At the bend of a narrow road, you come across the famous village of Evoramonte and its magnificent medieval castle, and its olive groves and cork oak.
Your walks, hiking, cycling and riding, will lead you to the Natural Park of Serra de Sao Mamede, connected to the Spanish Natural Park of Serra San Pedro, a real paradise for all hikers, birders, and simply for nature lovers. It is even possible to stay in camping or renting.
Another must visit during your stay in Alentejo: the village of Flor da Rosa. Former headquarters of the Order of Malta, this village will charm you with its stark beauty inherited monks knights. You wander through the narrow streets of the village, visit and admire the small stalls where artisans are engaged in their art work on granite, and will also have the opportunity to stay in a small palace of the seventeenth century. Immersion in Alentejo of once guaranteed!
During your break in the Alentejo, in your many bucolic walks, you will have the chance to see a white building off that challenge you. As you approach, you will fall in the peaceful village of Telheiro, in which the ancestral craft is still relevant. Objects of cork and wicker, hand woven blankets… as many objects with history and unique in their design in a traditional know-how.