The photo has a certain effect, since it is not unusual to find a large cruise ship on top of a hill.
However, it may happen in South Korea (in fact I believe there is a small copy of ship in cement and brick as well on the hills in Croatia, but this is more scenic), where it was built The hotel Sun Cruise.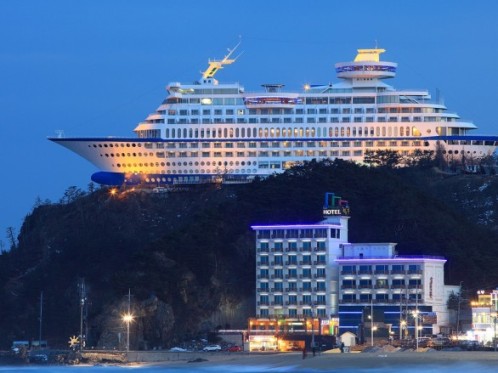 The rooms resemble in some way the inside of a ship, with large round porthole overlooking the sea, that indeed, there is, even if much lower down. For those who love luxury suites, presidential suites and the Royal Suite, with large windows and a fantastic view of the ocean horizon.
The Sun Cruise presents itself as the first luxury cruise ship on the mainland and just being a fair distance from the sea was able to tempt fate by calling one of the halls wedding … Titanic.
The park in which is entered the hotel provides a number of other attractions, such as gardens, pools and a viewing platform to see the whole thing. Also a little further down on the rocks that oversee the beach, there is a fake galleon, in which it was made a nice restaurant overlooking the waves.
It's not really a strange building, but in short, it is certainly quite strange and curious.