Morocco is a very attractive country, both near and far, where you can experience many adventures. Besides the diversity and cultural richness of the imperial cities, Morocco offers numerous wild landscapes, especially the Sahara.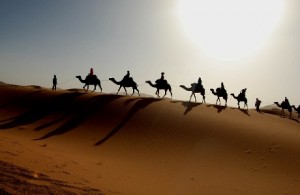 The climate of Morocco varies greatly from country areas, coastal regions tempered to the arid desert climate. Saharan desert regions enjoy a warm, dry climate all year round but winter nights are very cold. In the spring, the night side and the temperature in the day remains pleasant (in summer, the temperature range is also very important because of the blazing sun that lasts throughout the day).
Spring is an ideal time to visit Morocco and especially to discover the Moroccan desert. Traverse the desert in spring is an unforgettable experience. You will experience the rebirth of the sparse vegetation of the desert, the temperature differences between day and night… It should also not forget to provide a light jacket or fleece for evenings and nights.
Hiking, camel safari (to back of camel or of dromedary) or circuit in a motor vehicle, each discovers the desert at their own pace. For your accommodation, living with at least one night tent and starry sky above your heads is a very memorable experience. Other types of accommodation you can offer more comfort and better solutions to your needs. The homestays are particularly popular because they can discover new aspects of local life while making meetings that will remain engraved in your memory…
To relax or just a change of scenery, the Moroccan desert in spring is an ideal destination, both in the distance and travel back on itself…