Between Andes and the Pacific Ocean, it is a land at the end of the world which preserves the magnificence of nature in the wild. We are in Southern Patagonia, Chile. Hike in Torres del Paine Park, a paradise for walkers. Then pass the Strait of Magellan and push you in Tierra del Fuego. Discover the Navarino island and finally … Reach the Cape Horn!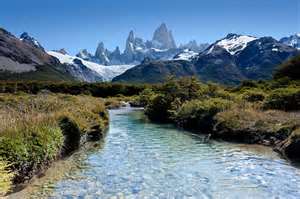 Torres del Paine
High-rise trekking in South America, it is one of the most beautiful and largest parks of Chile (181,414 hectares). Hikers from around the world leave its trails admire landscapes of great beauty: forests, mountains, valleys, glaciers, lakes, rivers, waterfalls … The Torres del Paine is located next to the Los Glaciares National Park, Argentina side. The visit combined these two sites offer one of the most beautiful trips in South America.
Strait of Magellan
Passage between the mainland and Tierra del Fuego, the mythical strait connects the Atlantic and Pacific oceans. On the ferry crossing between Punta Delgada and Puerto Espora (30 min.) Or between Punta Arenas and Porvenir (2:20).
The Tierra del Fuego island
This land, protected by various parks and reserves, remains a haven for wildlife: foxes, wolves and magellanic penguins, wild horses, lions, rodents and birds (geese, ducks, raptors). The island is divided between Chile and Argentina, the Argentine side with the famous Ushuaia.
Navarino Island
It is located to the south of the island of Tierra del Fuego, at the edge of the Beagle Channel. Puerto Williams argues with Ushuaia the southernmost city in the world title. This small port is located at the foot of a wooded mountain known for its granite peaks called Teeth of Navarino.
Horn Island
Icon of the maritime history since always, Cape Horn is a mythical cliff of 425 m of the Horn Island, south of the archipelago of Tierra del Fuego.