Crane 13 in the industrial area to the North of Amsterdam will hide a surprise after tis recognizable profile. Three luxury suites and a jacuzzi on the terrace to get some incredible panoramic city. If you want to sleep on top of a crane in Amsterdam, it will be possible starting from November.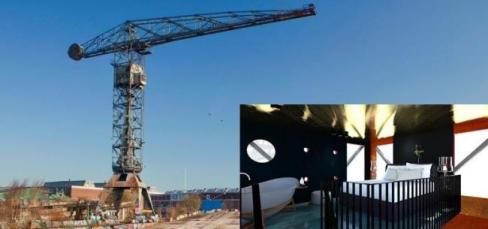 At first glance would imagine cement, containers and hard work of workers around, but the new Faralda NDSM Crane Hotel, which will access through a panoramic elevator is designed as a unique contemporary design. An attractive and different, this has hung the sign of "complete" for the first few weeks of opening.
There are only three rooms, going to one of the hotels with fewer rooms in the world, but in them the guest will find all kinds of comfort.
The hotel will also have different facilities where events may take place with music, television or film. In addition, the original hotel will house a television studio overlooking the venue for the NDSM festival and Ij river.
No doubt this is to give a facelift to the area where the crane is located, which is going to be one of the most creative of the city, and incidentally give new life to this old shipyard area. An excellent way of reusing spaces without disposing of an iconic image as the crane 13, which has been filled with rust and graffiti with the passage of time.
Looking at photos of the area where the crane is located, we have seen that appears surrounded by containers and even a dead end with an old abandoned tram resting. Doubt the public transport to reach this place, but surely that needless to lucky customer who stay in it.
We look forward to the opening of the new hotel at the top of the crane 13 in Amsterdam, which no doubt for that moment changed its beams oxide by a bright color…