Skiers know it; the hardest part is the preparation. The outfit in the morning, the arrival to the systems that lead to what is in altitude, with the car if you are staying away, and then the lift on the slopes, where you wear your skis and, finally, skiing. All this can take up to one hour or more, especially when you are skiing with kids in tow.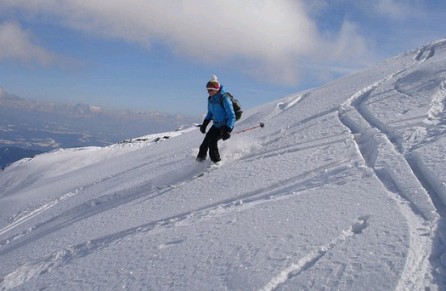 In Innsbruck you have the chance to get out from home, skiing in shoulder, to start the day directly from the old town, where you arrive at an altitude of 2,000 meters in 20 minutes, ready to experience the excitement of one of the biggest ski areas in the Alps.
Everything thanks to the Olympia SkiWorld Innsbruck, that with a single ski pass offers the opportunity to ski on 9 ski areas with 300 km of slopes, in addition to between 7 snow parks and fun parks, cross-country rings, with over 90 lifts.
The gateway to the city greets the arrival of skiers with the monumental springboard from ski jumping of the Bergisel, produced by superstar architects Zaha Hadid, become a symbol for those arriving in the city.
9 ski areas where each skier will find the track that best suits their needs and capabilities. Since the district built for families, to the slopes at high altitudes, up to the most demanding sporting challenges. All in the beautiful mountain scenery and, if we exploit the Christmas period, with the magical atmosphere of Innsbruck's Christmas markets.