It was not enough that the ski pass opens the doors of the spa. In Bad Kleinkirchheim, Carinthia, there is another novelty for ski lovers and wellness. From winter in the ski resort of Sankt Oswald, just above Bad Kleinkirchheim, you can relax in the sauna or infrared therapy right on the slopes.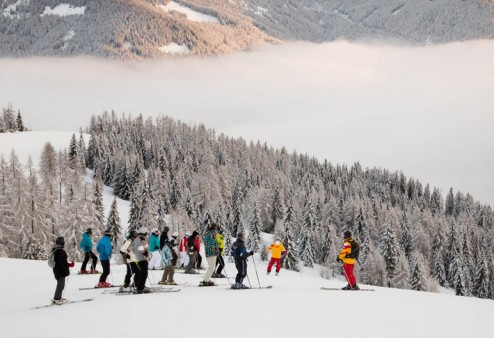 Spa Cube are two containers of well-being, with large glass windows overlooking the mountains, nestled among the Nock, the rolling mountains that protect Bad Kleinkirchheim. Just take the cable car from Sankt Oswald rises in proportion to meet them and then, with a ski pass, free admission.
Upon arrival of the cable car you immediately meet the Thermencube Vesta: removing jacket, pants and turtleneck, there is wrapped in a towel and you are welcomed into a world of steam, scented by essential oils. The "spa cube" features a Finnish sauna and an infrared cabin, excellent for warmth but also, using it regularly, to erase muscle tension and prevent, or cure, chills. It is also an expert in massage and spas, to turn to for advice or a reservation for a treatment to the Roman baths, downstream.
The second spa cube, Thermencube Solutaris, it is positioned along the slopes of Sankt Oswald, in Priedrof. Here are two massage chairs, quick treatments to relax the muscles, stretch your spine contracts, and give a little relief to tired quadriceps. Just a 10-minute break to return to the track and regenerated with a great desire to ski again. To discover all the 103 kilometers slopes of Bad Kleinkirchheim.
Bad Kleinkirchheim, however, is not only a destination for those who love skiing and spas. There is much to discover for lovers of good food. From 30 January to 18 March, for example, missed trips are offered for all chocoholics: a panoramic hike with snowshoes on Feldpannalm ends at the table to enjoy one of the most famous chefs in all of Austria, Marco Krainer.