A resort situated on a slightly higher costs compared to a white sandy beach whose whiteness stands out even more in contrast with the deep blue ocean and the emerald green of the forest. The Six Senses Con Dao, Vietnam, looks like this. And can be reached by daily flights of 45 minutes that from Ho Chi Minh City reach these shiny 5 stars.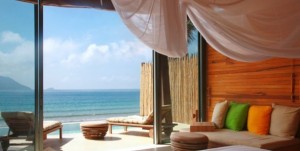 There are even 50 villas, built in such a way as to minimize the environmental impact and a few meters from a long beach over one kilometer, so close to the water that is detuned infinity pools that lie in front of each patio.
The houses range from 1 to 4 bedrooms, all with breathtaking sea views. And if you take advantage of the Spring Sale, you can stay at Six Senses with just $552 per room per night (to add another 20% tax and additions), including breakfast. Choosing a different time of year you can always count on the reduction of 15% for advanced booking (at least 45 days before arrival).