We are so accustomed to the exotic, the distant, that if we think of waterfalls, the first names that come to mind are those of Niagara, the Iguacu and perhaps those of the Zambesi, oblivious to the many natural beauties of which we enjoy in Europe.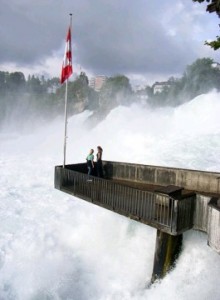 In the photograph we see a spectacular vantage point of the Rhine Falls, Zurich side, but similar structures to this there are different, because the falls are a destination for tourists for ages.
The Rhine Falls are the largest waterfalls of Europe, means broad spread, not higher, but the show is impressive, with the waters of the Rhine, which roll over down with a roar of thunder, deafening when you approach them.
Getting to the waterfall on the Rhine is not as adventurous (and difficult) how to get to those Iguacu, just get in Schaffhausen, and from there to Neuhausen am Rhinefalls. At this point we have many opportunities to enjoy the waterfalls, like the one to take the ferry to see the water. Many tourists choose to begin the visit from Schloss Laufen, served from a parking lot, where you can enjoy panoramic views of the falls and the Rhine, which runs just below the spur where is located the castle.