Singapore, a bustling port due to its location, a modern airport, probably the best airport in the world, there is going all out to be not just a city of business and commerce, to retain at least some of the passenger traffic that passes through the city, focusing on modern and exceptional nature.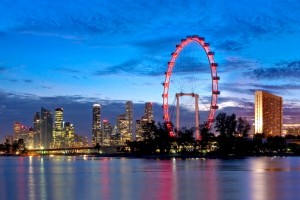 Concrete symbol of this idea of tourist development, the area of Marina Bay, ultra-modern, ultra-comfortable, ultra everything. And here that you will find the Marina Bay Sands Resort & Casino, a dramatic infinity pool with an adjoining casino, this is where you will find the Singapore Flyer, the tallest Ferris wheel in the world, 165 meters, 30 meters higher than the London Eye, the largest in Europe.
Active in April 2008, allows the space with views of the city of Singapore, Malaysian and the neighboring islands, up to 45 miles away. The Singapore Flyer is located in the Marina Bay area, in the south-east, and consists of 28 capsules, capable of carrying 28 people (lucky number?), All with air conditioning.
Starting from 33 Singapore dollars for adults (about 21 euro), $21 (14 euro) for children (from 3 to 12 years) for a standard lap of half an hour, but if desired, for $99 the pair (about 63 euro), you can take tea with pastries, with Singapore at your feet.