The Retba Lake is its official name but is often simply called Pink Lake. The reason can directly understand the pictures below.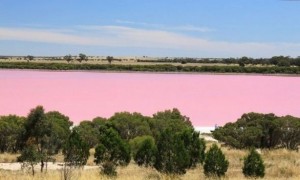 It is located in Senegal, about thirty kilometers from the capital, Dakar. And 'one of the major places of tourist destination and, for this reason has been built numerous luxury hotels in the area, to meet the many customers who went to the peninsula of Cape Verde.
The main characteristic is precisely the color due to the presence of microorganisms and of very high percentage of mineral. The rays of the sun during the day, allow the Lake to change intensity of its color. But the Retba Lake is also important for the extraction of salt: in one liter can get about 300 grams.