The name alone conjures up the crystal clear waters of the Maldives islands, sandy beaches and beautiful. And Constance Moofushi Resort does nothing to deviate from this stereotype pleasant. Its five stars shine above a beautiful sandy atoll of a circular shape: the coral reef surrounding a small patch of lighter color separating it from the dark blue of the ocean.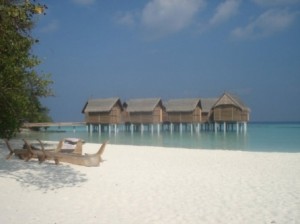 Each of the 110 villas, situated on the beach or on the water, offers an intimate and friendly atmosphere in a natural setting of extraordinary beauty, made of beautiful lakes, sandy beaches and verdant glades that will win you over right from the start.
Constance Moofushi is located on South Ari Atoll and is undoubtedly one of the best destinations in the world to explore the seabed. In a wonderfully elegant and exclusive, the resort is the ideal place for the most demanding gourmets and to all guests wishing to enjoy a luxury holiday of relaxation and style.
The large huts are suspended in the water with wooden stairs, complete with outdoor shower, which lead directly into the sea: a boon for snorkelers. And after a day of sea, sun and hammocks – without them the palm lose much of their charm – you can enjoy a cocktail bar at the hut, where the couches and tables seem to emerge directly from the white sand of the island.