Finally! snow is here. You look forward to the slopes and take a breath of fresh air or nature. But to enjoy all the best to plan your stay!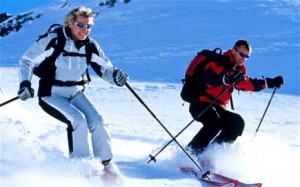 First, we must choose our destination. There are many hill stations as it is in France, Italy, Austria, Switzerland, etc.. Before you book one or the other, make sure that it corresponds to your expectations: living with family or friends? What is your level of skiing? Skiing or track? budget? etc..
Where you have chosen? Do not neglect when! In fact, snow is a variable that we can not anticipate. More mass, the more you have a chance to find enough snow. In France, the Alps provide more safety on this point that the Vosges. If the snow is sometimes present in the month of November to April, the February holidays are often the most snow.
Of course, the skiing does not require the same amount of "white gold" as downhill skiing. And also ask about activities offered by the resorts that offer increasingly alternatives.
Do not neglect your physical preparation. Indeed, for a certain number, the ski is the only sports activity of the year. The ideal is to prepare about a month before increasing the intensity over the weeks. Skiing is working the whole body, every muscle exercises, balance and stretching are recommended. Once on the slopes, it is necessary to warm up before and during breaks.