Founded in the summer of 1955 in Valnontey, a small village of Cogne, the alpine botanical garden Paradisia is a little gem hidden in the Gran Paradiso National Park.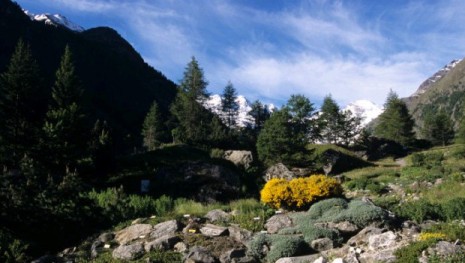 Small compared to the park, because it is still 10,000 square feet of basins and valleys, framed by the Gran Paradiso massif, which host more than 1,000 species of plants and flowers of the Alps and Apennines and numerous specimens of medicinal plants, as well as some examples of flora from other mountain ranges around the world, and various plant species that live in different environments, reconstructed specially for tourists, such as wetlands, moraines, and limestone debris.
The garden also reserves a small piece of magic, with the unmissable butterfly garden, an area of Paradisia species of colorful flowers that attract butterflies in particular. The corner of the garden preferred for children.
Up to 7 September the garden hosts meetings and thematic tours that offer an excuse to visit this corner of the Aosta Valley. Open Monday to Friday from 9.00 am to 13.00 and from 14.00 to 18.00. Rates: full: €3.00 (a short contribution), reduced: €1.50, free: children up to 6 years.