Nerja is a Spanish coastal town of 20,000 inhabitants located in the province of Malaga in the Axarquia region. Just sixty kilometers from Malaga, Nerja enjoys an equally pleasant climate all year that favors outdoor activities: hiking, biking, the scuba diving, water skiing, kayaking, swimming…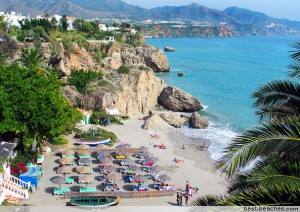 Nerja is a tourist town which has distinguished itself for its many attractions it offers to its visitors. In particular, the caves of Nerja with an international reputation that attracts every year thousands of tourists for the richness of their history.
Nerja is also popular in winter for the ski resort of Sierra Nevada. In summer you can relax on the beaches of the Costa del Sol, within walking distance of the city, on the beaches of Burriana, El Playazo and reserved beaches for nudists such as Playa de las Alberquilas. Torrecilla beaches and Calahonda are among the nicest beaches of Nerja for their first sea overlooking the waterfront.
Near the Natural Park of Maro Acantilados, you will find quiet spots ideal for spending time away from the crowds. For nature walks, the park of Sierra Tejeda, Alama, and Almijara, will offer the best scenery of Nerja and its province. Your stay in Nerja is the perfect opportunity to visit nearby towns such as Malaga, Granada, Seville, Andalusia beads.
In terms of gastronomy, Nerja awaken your sense of taste! Invite in your plate all the flavours of the Mediterranean especially fresh fish or seafood dishes. The Aquarquia region is known for its culinary tradition essentially served with fish and soups.
In the old quarter of Nerja, life is active from morning to night with bars, restaurants and shops. You can also attend to all your cultural outings by going to the theater, flamenco shows, movies, concerts, exhibitions… Among the attractions of Nerja you will find the Balcony of Europe, an old castle which offers a panorama outstanding on the coast.