Be the first to enjoy a unique park in Europe, the national park calanques, which should open in summer 2012.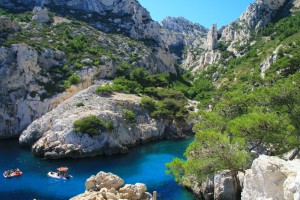 The objective of the Park is to provide better protection and benefit from additional means to preserve the calanques, these valleys carved by a river and recovered by the sea. National Park Calanques will be the first peri-urban national park in Europe.
All elements are present for the opening of a national park. The calanques in effect form a single territory in the world with limestone cliffs; biodiversity is particularly rich with among others, the presence of Europe's largest lizard, the ocellated lizard and many human remains as the Cosquer cave and prehistoric paintings.
But this territory is threatened by too much traffic and marine terrestrial, marine pollution, fires and urbanization still growing. The cliffs and Aleppo pines, evergreen oaks, the great biodiversity of the marine world, coves, harbors and sheds must be preserved for future generations.
Calanques National Park will be the only French park both land and sea for copy protection nears a city of over one million inhabitants. Its objective is to preserve the environment while allowing access possible. This is to prevent fires, protect wildlife and flora, welcome visitors and offer educational activities to develop environmentally friendly practices.
The park entrance will remain free in contrast to what is practiced in other countries; access to certain areas will be regulated without hindering the practice of hiking, equestrian, cycling or climbing.