After learning that in Japan there is a paradise of rabbits, the village of Volpi, and the island of cats, with the latter competing at the beach cats in Sardinia, today we move to Vietnam, where the cows go in Scooter, and the villagers are living with snakes.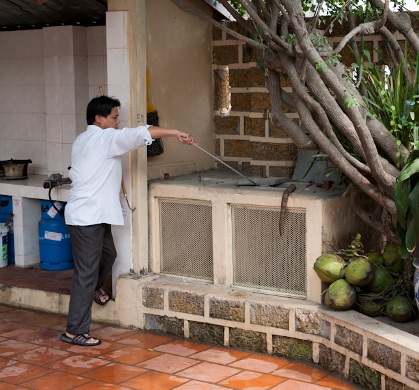 The reason for this decision is simple; in this village of Vietnam, Le Mat is just 7km away from Hanoi, from generations of hunting snakes to make dishes to serve at lunch or dinner. If you are curious, the whole thing can take place before our eyes.
Walking through the streets of Le Mat, now known as the village of snakes, it's not that hard to find a restaurant that among the dishes of its menu does not offer the snake. On the other hand, the villagers have long been known as expert hunters of snakes, they are called in all the surrounding areas, including Haonoi, when you suspect that a snake "pastures" in your own garden.
Usually, after you choose the size and type of snake, the reptile, still alive, it was presented to the dinner and then killed; guests are also offered a shot, quite questionable, based on blood and vodka. Then the animal is brought into the kitchen and cooked. Among the most popular dishes, the skin fried and crushed bones.
Of course, next to the many tourists who come here to attend or participate in this "strange" culinary practice, others criticize harshly the commercial development of what was a limited culinary tradition.