It is a small state which was a haven for hippies in the 1970s, when India takes on the air in Latin America: Goa was colonized by the Portuguese before the British occupation … and the colors that burst through the narrow streets, their rows of colonial staircases, railings painted wood, pure white churches, garlanded niches where Christ and the Virgin ensure dressed in clothes with bright colors, put Colombian accents on the Indian Sanskrit.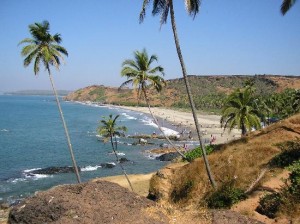 In Panaji, the state capital of Goa, you could almost believe in Cartagena, especially as the warm and heavy air wraps you in the same tropical wetness. On the river that borders the town, estuary in the Gulf of Oman, steamboats and more reminiscent of Louisiana. They take tourists and Indians to cool sea breezes, watch the sunset. Night falls, the singers invited on stage passengers, who dance, drink, sing, and nibble delicious samosas…
Away from the bustle of the festival, at the mouth of the estuary, this huge colonial style villa, immersed in the cool shade and lush palm trees and coconut palms, facing the bay. It accommodates up to fourteen people in complete comfort. We can live in idleness, luxury and tranquility of old pashas of the city.
A large swimming pool provides freshness to the hours necessary overwhelming. Under the great banyan tree, umbrella tree overlooking the terrace, we taste the pleasure of doing nothing, between a walk in the streets so typical, noisy and colorful Panaji, and a day on the vast sandy beaches that stretch across the along the coast.