Prepare your luggage is not as simple as it seems, more if we travel by plane and want to go unnoticed by the security control of the airport. According to a survey carried out by the flight search engine Skyscanner, more than half (52%) of the passengers of the plane have clear that they will fly with the suitcase in the cabin. On the other hand, 30% of the respondents consider that to invoice in indispensable while 18% have thought to decide it at the last moment. For that 52% of passengers and undecided, we offer a small guide to organize hand luggage without losing a single detail.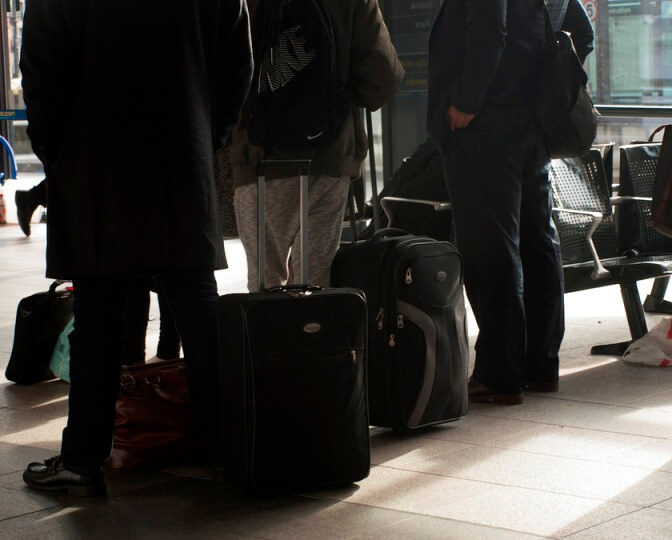 Can I carry liquids in my hand luggage?
According to Skyscanner, five out of ten users surveyed indicate that sunscreen and anti mosquito spray are the essential elements to introduce in summer luggage. Passengers who do not intend to check their bags should have existing restrictions to carry liquids in carry-on baggage. Any liquid container greater than 100 ml will be requisitioned in the security control, so it is essential to get bottles of shampoo, gel, cream, hair gel, toothpaste or "travel size" deodorant. It is also the case of facial moisturizer or perfume. If possible, transfer some of your perfume to a small nebulizer. All these liquid hygiene products must be placed in a visible way and separated from the rest of luggage, in a transparent plastic bag with closure system and a volume less than one liter.
We know that a large part of beauty items are considered liquid in security control. But what more products are considered liquid in carry-on luggage? Soups, aerosols, lotions, oils and any contents of pressurized contents such as shaving foam. Marmalade jams, soft cheeses and even pates fall into this classification.
And what liquids can I bring?
According to airport operator AENA, liquids can be carried in hand luggage if they have to be used during the trip (roundtrip flights plus stay) for special used. Children's food like breast milk or baby soya and "baby food" are allowed in carry-on baggage whenever traveling with children. It is necessary to separate these products from the rest of the baggage in the security control, but these do not have to go inside the transparent bag. The sterilized water for the baby must always be carried inside a bottle.
Apart from special uses, liquids can also be carried in hand luggage for medical needs. Pills, syrups, gel packets or inhalers must be presented outside the transparent bag and separated from the rest of the baggage. In addition, it is advisable to take a receipt or medical prescription with you, as this may be required in the security control. If you need another kind of medical equipment such as hypodermic syringes or oxygen cylinders or traveling outside the European Union, it is essential to contact your airline and notify them in advance.
You can also bring liquids such as alcohol or perfumes that exceed the limit of 100 ml. if they have been purchased in the duty free shops of the airport or on the plane. These items must be packaged in approved and sealed safety bags with the receipt of the purchase inside. These can not be opened during the journey.
Is it allowed to carry electronic items in hand luggage?
For a year, we have to place electronic objects that we do not plan to invoice in a separate tray when we pass the security control. This standard applies not only to laptops, tablets or mobile devices, but also to radios, hairdryers and hair straighteners, battery-operated toys, electric toothbrushes or razors.
Important: The United States and the United Kingdom do not allow electronic devices of a larger size than a mobile phone to be carried as carry-on baggage on flights from several countries in the Middle East. We must take it into account.
What sharp objects are prohibited for the suitcase in the cabin?
31% of travelers surveyed by Skyscanner say they cannot travel without beauty products such as tweezers or clippers. These are allowed together with fixed (disposable) razor blades and round tip scissors. We can also include sewing or knitting needles, umbrellas, strollers and wheelchairs in our hand suitcase.
And what is totally prohibited? Corkscrews, blades, razors, scissors with blades over 6cm and cutters. The switchblades are not allowed.
Can sports objects be carried in hand luggage?
7% of respondents consider sporting objects such as rackets, surfboards or essential golf clubs to enjoy their vacations. No object of the aforementioned can be loaded on board and each one has different conditions and characteristics, according to the airline, to be invoiced. Some franchises allow rackets or golf clubs to be included in the carry-on luggage and it is even possible to check-in surfboards for free.
Kayaking or canoe paddles, pool cues, fishing poles or skateboards are prohibited in carry-on baggage. It also happens in the case of equipment that is used in martial arts as brass knuckles or "nunchaku".