Visit Marrakech, why? Because surely have not visited a city so ever. A unique city with a smell, a taste, and unique color. Also for very little money you can stay in a good hotel. Do not hesitate and makes the leap to Africa, you will not regret. Its will be your ideal holiday.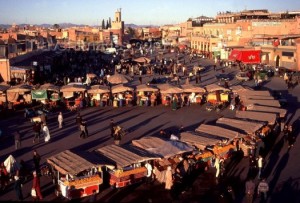 We are on another continent, and this should be noted, by what in Marrakech will not find impressive monuments or museums with famous art, as in the majority of European cities, however can visit places steeped in history and meet amazing people.
What to see in Marrakech:
Marrakech Souk: A maze of alleyways lined with shops and stalls. Here you can find anything you can imagine. The artisans are grouped by guilds: ironmongers, basket makers, carpenters… The way to shop is to use the Haggle. The normal rule is not to pay more than a third of the initial price of the product. The zoco extends from the Jemaa El Fna square. A really must visit!
Jemaa el Fna Square: The main square of the city and the most important of the medina. It is a square with two faces. By day it becomes difficult to describe, since there are appointment monkey tamers, snake charmers, people doing all kinds of shows … and of course you will be able to observe the locals do their day to day. At night is filled with food stalls, musicians, and all kinds of street performances.
Koutoubia Mosque: It is the most important in the city. It was built in 1158 by Caliph Abd al Mu-min, and stands out for its high minaret and the materials with which it was built, stone of pink sandstone. Thanks to its minaret of 69 meters is the tallest monument in Marrakech. The only catch is that you can only see it from outside, as the entrance is forbidden to non-Muslims.
Saadian Tombs: This was discovered in 1917 and has since become one of the most visited places in Marrakech. Dating back to the sixteenth century. In the garden you can see more than 100 graves decorated with mosaics, where the bodies of the Saadian Dynasty Warriors and their servants. In the main mausoleum is buried Sultan Ahmad al-Mansur and his family. The visit is very economical.
Finally discuss the security in Marrakech. It is true that you will have the same sense of security that in a European city, though still a bit cautious you will help avoid bad times. For example, it is not very recommended to walk through the night for certain areas, as the lighting of the streets at night leaves much to be desired. Sure you travel with many people, including children, who will ask for money on the street, in this case it is better to carry all our belongings into closed pockets, or backpacks or bags closed with zippers and we can see them. Anyway, just be a little more cautious of the account, however worth it because Marrakech is one of the best places to visit.