Nicknamed the "Pearl of the Adriatic", the Croatian medieval city of Dubrovnik is known throughout the world for its architectural wealths. The old town and close to the island of Lokrum made itan increasingly popular destination.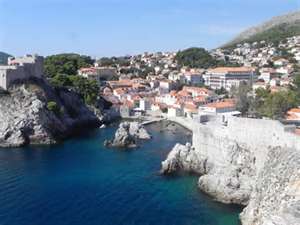 Visit ramparts: a breathtaking view of the Adriatic Sea
Start your walk by the Pile Gate, the main entrance to the city. The tour of the ramparts is an excellent starting point for exploring the city. Experts advise to go around the wall in the direction of clockwise to mount directly on the highest part. Allow an hour for the ride. You will come across several monuments:
Tower Mincetta, circular, which was built in the fourteenth century;
Walls of the mainland, the thickest and strongest of the medieval city. Its will offer you the best view of the towers and multicolored roofs of Dubrovnik;
The Asimon Tower overlooking the Ploce Gate, the second access to Dubrovnik. The Fort Revelin watches over this entrance. The walls are protected by the Fort Saint-Jean;
On your way, you will meet, on the southern part of Dubrovnik, the Bastions of Holy-Marguerite and Saint-Pierre;
The Bokar tower, at the end of this wall. A few meters away, you're back to the Pile Gate. Ideal starting point to begin a visit to the old town.
Visit the old town
The old town of Dubrovnik is a marvel. Take time to stroll and admire the buildings around you:
Appointment to the Placa, a beautiful pedestrian walk. Zudioska Street houses one of the oldest synagogues in the world;
Then you arrive on the charming square of the Loggia. This is an interesting starting point for discovering the sights of the city such as St. Blaise Church, dedicated to the patron saint of Dubrovnik or the Dominican convent and artistic treasures it contains;
Cross the square, you will come across the magnificent Rector's Palace and the Cathedral of the twelfth century. Behind, go to the old port.
The island of Lokrum
The heart of Dubrovnik is discovered on its old port.
If it's too hot, go to visit Lokrum, small island in the lush vegetation that faced the walled city. In 1023, the Benedictine monks founded an Abbey. Closed under the Napoleonic occupation, it was replaced in 1859 by the summer residence of Maximilian of Hapsburg, who will set up a botanical garden planted with exotic species. For their part, the French built the fort royal (1806), which offers to the Northwest a beautiful panorama on Dubrovnik.
Boats from the port to the old town take you there every 30 minutes from May to October. Allow 10 minutes for the crossing. Many rocks are equipped with ladder for swimming.