Dubai Creek, perhaps once the final part of a small river already known to the Greeks, is today little more than a channel, but it marked the history of Dubai, one of the cities in the world with the highest rate of growth in recent years, both from the economic point of view, both the marina.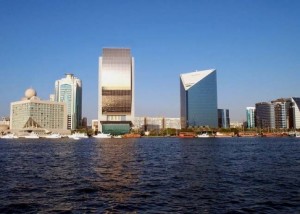 From the sea, to the hinterland, where today is the nature reserve of Ras Al Khor, where migratory birds have their oasis of peace, Dubai Creek is not very long, but it was here that some of the first inhabitants of Dubai, for their traditional fishing boats, and from these shores dive into water the pearl fishers.
Small businesses, large daily labors, now living with the most profitable activities of the new rich, who here built their docks, bars and restaurants, but did not completely clear, the most ancient and authentic remains of Dubai. The Creek, which divides Dubai into two, one part Deira, on the other hand Bur Dubai, connected by a bridge since 1960, is a flow of boats, peoples and activities.
So, whether you are short on time, whether you are looking for a starting point to understand the city, a boat ride on the Creek, it may be the right idea to get a first mental map, to help us in the discovery of Dubai.
A ride on the Dubai Creek, maybe at sunset if you are in the mood for some shots musicologist spectacular skyscrapers, which drew the new city skyline, as well as the minarets of the oldest part of the city, before you try any dish spicy cuisine in Dubai.