You go on holiday by car with a baby or very young child. In anticipation of this long journey on the road, here are some tips for traveling with baby in car with confidence.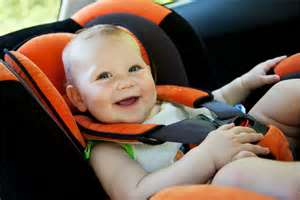 Baby safety car
Baby must be installed in a car seat adapted and approved.
To attach your baby, secure the straps on the baby shoulders, leaving two fingers between his body and the past.
Choose the right car seat
The car will be useful for the infant who does not hold his head yet: baby is thus lengthened and can sleep comfortably. You will fix it in the back car, along the bench and will cover it with a net;
The seat Group 0 (or Group 0+) is recommended for children under 10 kg, and is set back on the road with the belt. Privilege the straps at 5 items (2 ties in the back at the shoulders, two at the waist and one between the legs);
Group 1 seat is for children from 9-18 kg. It is fixed to the road surface, with the seat belt.
Make frequent stops
When traveling by car, it is necessary to stop 15 minutes every 2 hours to relax and not to accumulate too much fatigue, but also to allow the baby to change position.
If your child is awake detach and walk a bit. If it works, take the opportunity to stretch your legs together and do some exercise (running, jumping …).
If he sleeps: do not wake up. Relax near the car to keep an eye on him and he can see you when he wakes up.
If your baby starts crying, stop to take in your arms. You will leave once he will be calmed and again correctly in bed (attached net).
10 tips and tricks for travel by car
In summer, avoid riding the hottest hours (12-16 hours). Leave early, before dawn when it is still night and the kids are asleep;
A baby should drink often, also plan a mist of mineral water for refreshment;
Dress up baby with clear and loose cotton clothing (avoid synthetic!), to limit the baby sweating;
Do not open the front windows in general, because the rear your child could catch a cold. Heating and/or air conditioning sometimes do not reach the rear seat properly. Give it a try before you leave;
The sun can interfere with baby: it blinds him and gives him warm. To remedy this, set the blinds on the windows. Experiment before you go: with the sun in front, side, back;
If you ever want to smoke, do not do it in the car, but instead make a pause;
Do not place heavy objects on the rear: if sudden braking, it would fall on the baby;
Do not give your baby all the toys provided at the same time, but progressively;
Know that you will return often … So if you have a baby, put your luggage in the front passenger seat and sit in the back next to your baby;
Never leave a child alone in a car!

Items to have on hand for a long drive with baby
Clothes in case of leakage or vomiting
Change material: diapers, wipes, towel, plastic bags to put dirty diapers;
Food and drink: small bottle of water, biscuits, milk powder and water jars…;
One or two bibs and paper towels;
The blanket and/or nipple;
Some toys among preferred of baby.