Central Chile has many advantages. Santiago de Chile, at the foot of the Andes Cordillera, impresses with its historic, bohemian and its surrounding vineyards. Valparaiso, legendary port classified to the World Heritage of Unesco, facing the Pacific from the top of its 44 planted hills with colorful houses.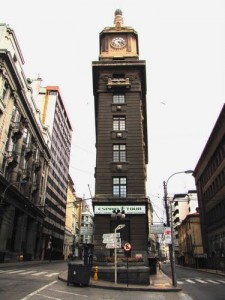 Santiago de Chile
City founded by Pedro de Valdivia in 1541 under the Spanish era, today it is a great modern capital of 6 million inhabitants. The oldest Quartiersles are located around the Place d'Armes.
Most buildings date from the 18th century: the Historical Museum, the Cathedral of neo-classical town hall and the "Casa Colorada", the colonial house, sheltering the museum of the city. Nearby, there is the presidential palace of La Moneda and pedestrian mall Paseo Ahumada and Paseo Huerfanos, famous for its galleries, cafes and patisseries.
Bellavista is the "Bohemian" district of Santiago, one of the busiest and favorite of the artists and. Alternative theaters, gourmet restaurants, bars, music and dancing….
Do not forget to go up out of funicular on the wooded hill of Cerro San Cristobal into full, stunning panoramic views over the city and the Andes awaits you.
Valparaiso
Valparaiso, Chile 2nd city of 300,000 inhabitants is located in a large bay with 120 km northwest of Santiago. The lower part – port and shopping – nicknamed the "Plan", is surrounded by 44 hills like an amphitheater. This unique frame earned him the nickname "Pearl of the Pacific".
In Lower Town, you can see the building of the Bourse du Commerce (1915) or the neo-Renaissance style of El Mercurio (1899). The Edificio Turri with clock tower is a symbol of Valparaiso. In the district of the port, made a turn on Muelle Prat to observe the activity of the dockers. Visit the Mercado Puerto, its iron structure was devised in the workshops of Gustave Eiffel in France in the 1920s.
To access the hills, Cerros, take the endless stairs or one of the 15 elevators. The oldest are the Ascensor Concepcion (1883) and Ascensor Artillery (1893).
Up there, away from the bustle of the center, the atmosphere is quiet and peaceful. Let yourself be charmed by these colorful old houses, the cobbled streets and the ubiquitous wall art.
An hour away in Isla Negra, you can visit the most original home of Pablo Neruda. Turned into a Museum, it houses thousand heterogeneous objects.