If rhymes with Paris Eiffel Tower, Louvre Museum and riverboat, Paris would not be Paris without its cabarets that are part of the myth of the city of light from the Belle Epoque. They went through good times like wars to establish itself as a key element of Parisian nightlife…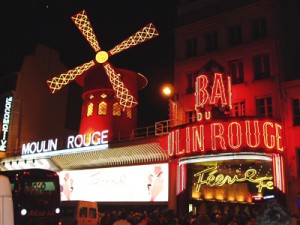 According to the cabaret you choose, dive into the atmosphere of the Belle Epoque, relive the heyday of music hall, or be enchanted by the glamour and glitter. Lido and Moulin Rouge others you through a whirl of music and colors… Each tavern has developed a particular style that has become famous.
At the heart of the legendary Champs Elysees, the Lido is intended at the height of sophistication… Reviews refined with the Bluebell Girls and Lido Boy Dancers (and yes, ladies, there for us too), which sets a truly impressive rink, inspired by the sumptuous Lido beach in Venice: a spectacle to be enjoyed with champagne and cocktails! This prestigious address is also the most famous of the capital. This is the Lido was invented the formula of "dinner show", copied worldwide.
The Moulin Rouge at the foot of district Montmartre, has inspired many theaters around the world but has never been equaled. Long renowned for its extravagant parties, the Moulin Rouge became a theater concert at incomparable French Cancan dancers. This is the incomparable Mistinguett which will restore its former glory in this music hall… Since then, the successes are linked together, making the Moulin Rouge cabarets most famous abroad and one of the largest customers of champagne in the world!
Other more or less famous cabarets are scattered in all parts of Paris with a certain fondness for Bohemian and trendy atmospheres… Crazy Horse at the Lapin Agile, the evenings will undoubtedly spice! For one magical evening, nothing beats the unforgettable atmosphere of a Parisian cabaret…