Come face to face with an enormous crocodile is one of those emotions that we would rather avoid. But, in Australia, there are those who pay to get into the cage of death. I.e. in a transparent container, on whose strength to attack a monster with fangs and claws would not rely excessively.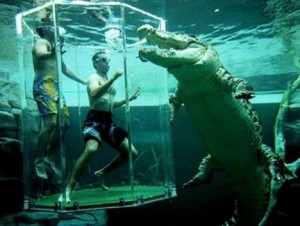 For lovers of reptiles and amphibians, we see that the cage of death is one of the attractions of the city of Darwin, where is the Crocosaurus Cove.
Some of the largest crocodiles in Australia waiting for a short dive, a few minutes before the animals get hungry seriously. The cage is first transported transparently over the aquarium and then be dropped into the arms of the coconut. Their nicknames are also reassuring, like Chopper, Denzel, Houdini and Bess: when you're down there remember to smile. The photographers will snap you Crocosaurus images that you will in good title display on the mantelpiece.
The show takes place on the 10th, 10.30, 12, 12.30, 13, 15, 15.30, 16, 16.30 and 17. The ticket, if you get a couple, costs 87 euro, but also includes the entrance to the other attractions of the park.